Tony Parker – New IWC Ambassador
Tony Parker,a 25-year-old basketball star, the point guard of San Antonio Spurs, has recently become even more famous, having married the beautiful Desperate Housewives' actress Eva Longoria. The gifted basketball player and newly-wed husband has recently posed not just for wedding pictures. Tony Parker has joined the latest advertising campaign organized by the Swiss watch brand IWC Schaffhausen.
The new IWC ambassador admitted he was really excited by the initiated partnership with the prestigious watch-making company. He mentioned he had long appreciated the distinctive design and fine craftsmanship of IWC watches. Tony Parker has already acted as First Ambassador to the French Make A Wish Foundation. The prominent basketball player enjoys and finds useful his participation in the charitable enterprises taken on by the companies.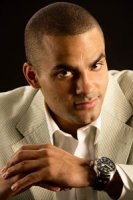 IWC has proved to maintain its continuous involvement in social responsibility, with the Laureus Sport for Good Foundation being one of the notable examples. The foundation supports underprivileged young people around the world. Tony Parker was deeply impressed by the IWC's involvement into charitable activities.
IWC President Benoit de Clerck welcomed Tony Parker as the company's new friend and new face of its timekeeping creations.
Tony Parker left France to join the San Antonio Spurs in 2001. He became the youngest starting point guard to enter the National Basketball Association (NBA). Since that moment, the basketball player has never sopped to break records. Tony became the third player highlighted in NBA history who has won two championships before reaching the age of 23. He has become the first European to be named the NBA tournament's MVP. For the second consequent year, Parker took part in the NBA All-Star Game held in Las Vegas.