Weird Watches – Originality Overdone
As you dig further into the depths of the industry of watchmaking, you may find a lot of weird stuff, which occurs whether due to the lack or overflow of imagination. Here you may find just a list of some very "interesting" watches. Some of them do not require any comments, others will definitely provoke questions.
At some websites you may find some statements like "one of the coolest-looking watches." The two designers of this timepiece are: Jean-Fran?ois Ruchonnet and Vianney Halter and the watch itself is called the Cabestan. Surely this watch looks like no other, but it's so weird that a question arises: who would want to purchase, especially for $220,000. It's probably worth mentioning that there are only 135 pieces. Thus we have a weird watch for rich geeks.
Having this watch on your wrist make sure you don't get fired for being late. This one is for computer geeks, however there might be someone willing to look like a computer geek so this watch might come in handy. In order to read the time one must know the binary numeration system, otherwise he or she might look not only weird but dumb as well.
There are times when contemporary products get whether the industrial or retro look and it sometimes works, however not always. The latter is the case of this Sports Utility Watch. This watch boasts digital and analogue time, as well as a light, stopwatch, compass and thermometer. Maybe it is technologically advanced but it so bloody ugly, and it is still very weird.
It's a watch, really, no doubt. As a matter of fact if you look attentively you might notice the hands of the watch, situated just beneath the red crystal covered case. One way or another it will be more than uncomfortable to read the time since you will only see the red crystal. Just because this timepiece is designed for ladies it might not look weird if considered to look more like a bracelet.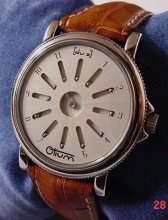 What time is it? Sorry I didn't get you? Once again? I guess it takes time for you to read the time. Probably this timepiece it has something to do with fashion, maybe some tangency points with the latest trends, or maybe none of the above. All you have to do to read the time is follow the tiny balls (sorry for the expression), and the little hand situated in the middle of the dial.
This one supposes to represent a revolutionary concept. The 12 hour cycle is strangely divided into 4 quarters. Each quarter covers a 3 hour period. Thus each time a hand completes its cycle, it automatically springs back to its starting position. This occurs when the hand on the next dial has advanced a quarter of an hour. Got that? Now read the time, please.
This one is from a watch line called Icelink – very impressive. The developers think its really cool and technologically advanced to have a watch enriched with diamonds on the bezel and crown, having six time zones. It would be interesting to ask an LA glamor lady what time is it right now, for example, in Bucharest.
This watch is a combination of a Chronoswiss golden case and a Wittnauer TD1393 movement. Thus you obtain a dream watch of a geek. Nicely strange. Although the design of the watch is quite weird, its mechanism is very complicated. One question: why try to make a complicated watch, spending a lot of time and money, so only the ones with the highest IQ could read the time – why not be simpler and wiser?
This watch model is called Otium. The designers worked really hard to make it less comfortable for the wearer to read the time. The watch looks simple, so simple that one could barely read the time. Probably this timepice, just like most weird watches, was designed more for the purpose of attracting people's attention with its unusual way of telling the time and less for functionality.
The Rotating Earth Watch looks nice, but it's won't be much of use neither for those who want to look stylish nor for the ones who just need to know what time is it. The watch includes a rotating planet Earth that makes a full rotation once every 24 hours. The watch was created by a team of Japanese designers and the manufacturing assistance was provided by Seiko Instruments.
This watch is useful for teaching its wearer how to tell the time. Maybe it would come in handy for children who are just starting to learn what time is and how do watches work. Not much could be said about this battery powered thing. Its main advantage is its classical design mixed with the application of modern technology. Just one question: AM or PM?
When the green thingy elapses it will be just the time to throw away this weird timepiece. It looks modern but its usefulness brings doubts. Designers used advanced technologies to create the watch, but it is still interesting to see the potential clients who are willing to buy it.
This watch is a mix of everything classic, modern and weird. It has a black leather strap, which makes it classic, it has a golden case with six windows through which one could see numbers, which make the watch modern and the whole design plus the time telling feature of the watch make it weird. The designers of this watch really overdone with originality – at least the numbers are visible.
This model looks like some sort of calculator. It's bracelet and case are made of stainless steel, which make the watch, one way or another, shock and water resistant. However, these are all the advantages that can be mentioned here since it would be difficult for one to guess the necessary buttons. Surely if the person is not lazy enough to read the instruction than he or she might consider opening the "one-thousand-pages book" and get acknowledged with all of the timepiece's features. So where is the "show me time" button?
This model has something common with discos – it looks more like an equalizer. The equalizer bounces up and down for some time and then it turns off. Afterwards the watch leaves two dots so one could read the time. After five seconds the party continues, since the watch turns the time off and starts bouncing on.
There you have it – usual list of unusual watches. Hope you enjoyed it. Feel free to comment and add some information on other weird watches you found on the Internet and in the books. You may also consider voting for your favorite watch so later to see your "most weird watch" choice at the top of the list.
Update: New Weird Watches Collection and Weird Watch Collection (part 3)